| | |
| --- | --- |
| Charlie's October | |
---
Charlie's farm diary: October 2000
October can be a very diverse month. Some years it can be open and dry and stock can stay out in the fields pretty much like in summer but in other year's as this one looks like being, it can be cold and wet and the start of winter for cattle.
This October, autumn has come quickly, dark nights, cold and damp, cattle need extra feeding now,and in sheds at night at least, new calved cows need to be housed day and night. All this means extra work for the farmer and stockman, with all the feeding to be done and muck to be cleaned up.
It is no better for the arable farmers, it being too wet to get on the land for ploughing or getting the maize and potatoes in.
A few years ago all the scientists were saying that the country was soon going to be a desert because of global warming, now they say it is causing the rain. Which is right I don't know but it certainly doesn't look much like a desert around here just now.
This is a picture of the cows when they came in last year, sadly they have all gone now, some to other dairy herds but mostly to be burnt because of government rules on BSE that any cattle over 30 months old can not be used for meat.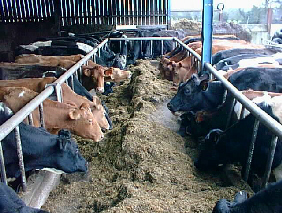 Today (16th) sent off the last three of my cull cows, sad day really after rearing all my own stock for at least the last 20 of my 30 odd years of farming but what else can you do when they just don't pay any more? I still have a dozen various heifers left which I shall keep until spring. I might get them in calf or sell them as bulling heifers.
Charlie, October 2000.