| | |
| --- | --- |
| Charlie's March 2001 Foot and Mouth Disease | |
---
Charlie's farm diary: March 2001
Apology: When I started this diary it was intended to be a general view of the joys and tribulations of farming and the countryside with a few reminiscences thrown in, but I could not of foreseen such devastation that farming continues to go through and I find it hard to find any good things to report.
Thursday 1st March 2001
Foot and Mouth continues to spread and we now have a farm close to us under observation.
Friday 2nd March 2001
Confirmed, about 450 cattle to be slaughtered and burnt.
Saturday 3rd March 2001
In my opinion the worst culprits in the spread of F&M are cattle dealers not the abattoirs. When cattle are moved to abattoirs that is as far as they get but when dealers buy them they are all over Europe in days. Why are they allowed to operate? What service do they provide apart from lining their pockets with the profit they make on your cattle? If they weren't in markets all standing in for one another prices would surly not drop. Why isn't some reg. brought in whereby anyone buying from a market should have to keep the animals for at least 2 months unless for slaughter?
Next the ministry. In this village it would have been a miracle if this guy that has got it, hadn't had some contact with F&M the amount of markets he goes to. MAFF vets were looking at his cattle on Tuesday (we knew this on the village grapevine) but no one from MAFF came to tell neighbouring farmers, even some who had cattle in the next field. When they eventually confirmed it at 3 o'clock Friday trading standard people came and told us we were under observation but as of 6 o clock Saturday there are still cattle grazing on the the fields around the confirmed farm waiting to be killed, they haven't even took them inside!!!!!! On the home front, I have had a ministry vet looking at my cattle today and at the moment it seems we are OK but as I can see them piling coal and logs up on the confirmed farm from my farm yard we shall be lucky to escape if it is on the wind.
Sunday 4th March 2001
UNBELIEVABLE, as the bloke said. As of 10 o'clock this morning (This is Sunday, it was confirmed 3 o'clock FRIDAY) there are still cattle around the infected farm waiting to be killed, OUTSIDE IN THE FIELDS!!!! On the local news bulletins they are supposed to be all burnt by now but 3 loads of coal have just gone past our gate. As soon as it goes dark they pack up for the night, in 1967 when the farm next door (where I worked part time) had it, the vets came out after dinner one day to a cow on that farm (there were about 150 cattle there as well as 30 on mine) and confirmed it in an hour. By 7 o'clock that night they were all dead. Diggers were here in a couple of hours after confirmation and by dinner time the next day they were all buried. This was at a time when there was not as many diggers about as there are now and cases everywhere. If all the police and officials that are about up there on this case, were given a shovel apiece I am sure they would be done by now!!
Just another bit of incompetence!! A local bloke who has a van and goes round shops selling bought in cheese lives on an housing estate in Uttoxeter but keeps a few cattle on his retired parent's land close to here. Well, he puts his house address on any forms he fills in so the trading standards people have closed his house down in Uttoxeter nowhere near any cattle but no one has been to his parent's farm where the cattle are. When his wife (who has nothing to do with either enterprise) said she wasn't going to have signs all over here front garden she was threatened with a huge fine. And as of 10 o'clock this morning no one has yet been to where the cattle are.
Later on Sunday 4th March 2001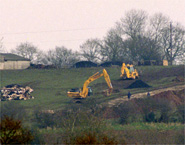 6 o'clock Sunday night They seem to have rounded up all the cattle, can't see any about now. 30 ton loads of coal going past most of the day, 2 3cx's and a track machine still stacking it in the field, also loads of brand new timber spars going past, all roads anywhere near the farm are closed apart from people going to the farm, including the main Uttoxeter to Stone road, vets still inspecting nearby farms but no other cases yet. Quite a few cars going past now, so looks as if they might be going home again. I know this is beside the point but the cost must be horrendous there can't have been far short of 30 blokes up there today as well as all the machines and the loads of coal, they have mobile offices and police cars, men on the roads and all these vets and other people running about all over.
Monday 5th March 2001
They all went home again last night, diggers started piling up more coal at 8 o'clock this morning, the farmers wife has been on Radio Stoke this morning, she says they should be lighting up tonight. No new cases at the moment. The local abbatoir about a mile from the infected farm has started killing again this morning but having to bring cattle in from other areas.
Tuesday 6th March 2001
They lit the fire at 8 o'clock last night, but two 20 ton loads of coal have just gone past so they must have to keep stoking it up, no new cases near here but have just heard on the radio that a farm in Marston on Dove is being investigated, that is on the other side of Uttoxeter in south Derbyshire. The vet has been again this morning to have a look at my cattle and at the moment we seem to be ok.
Saturday 10th March 2001
Well the fire is still burning, going since Monday night, don't know how they have lived in the house, on some days it was totally invisible through the smoke, it was bad enough here some days.
But worse news now . Another case was confirmed yesterday about 2 miles away and this is not a dealer or anything and lives up a long drive, no one seems to know how it got there yet, but it was in direct line of the smoke trail on the first day, so it must of been in line before the fire!!!! We shall no doubt find out. And we were just beginning to think we had got away with it.
Sunday 18th March 2001
Well we are still clear up to yet, they have burned the second farm's cattle now, then it went to the other side of Uttoxeter and 6 farms there have either had it or had the cattle took anyway. Now it has come back this way again, to the next farm but one to the first case, again well in view from my yard. There is another too on the other side of me about 2 miles away (They are butchers as well as farmers and they have killed their stock themselves though no one seems to know what is going to happen to them now.) Amazingly neither I nor anyone else around me has had a visit from any vet or any other maff person for a fortnight.
A large dairy farm here has some sheds about half a mile from their main farm and keeps their in-calf hiefers there. Well, some have calved now but they are not allowed to take them home so they are running up and down from one farm to the other to milk the hiefers with buckets and then taking the milk back to the main farm, I would have thought there would be less risk just moving the hiefers!!
Monday 19th March 2001
210 cattle about half a mile away (all home bred for about 50 years) owned by 2 brothers who had not set foot off the place since it all began, nothing on or off except the milk tanker.
Wednesday 21st March 2001
Another one today mostly sheep, also within half a mile of me, and exactly 3 weeks since the first case and all in a line!!
Well we were beginning to think we were out of it, now we have had 2 cases in 3 days just 3 weeks from the first case, but you can really see the different attitude to it now. The road past the first case is still closed and mobile offices are still there and it was crawling with blokes, but these latest cases, they haven't even closed the roads, you can go right up to the farm gate. And when you look, you hardly see anyone about. Don't know how they are going to stop it going all over the village now. We thought they were slow at the first one but it is just ridiculous now.
Sunday 25th March 2001
Well we another neighbour has it now in a sheep farm among about 5 others so they are taking out all the sheep on them tomorrow. We are only half a mile away but no one has been to see me for 18 days now so don't know how the land lies as regards cattle.
With regard to the rumour about the MAFF knowing about FMD in January, I would believe it apart from one thing: If some farms had got it then how is it that no farmer has come forward to say that they were one of the ones to have had it? If MAFF knew then the farmers must have known somthing was up as well.
How March should have been
March is useually one of the better months in the farming calender, longer and warmer days leading you to think that spring is only round the corner.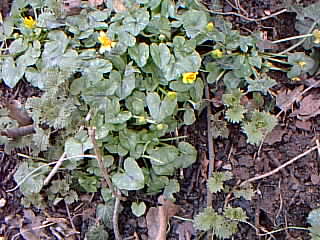 Daffodil's bloom in the grass and celandines on the hedge banks and hazel catkins on the hedges all add to the general feeling of winter begining to pass and the strong March winds drying out the ground so that spring field work can begin.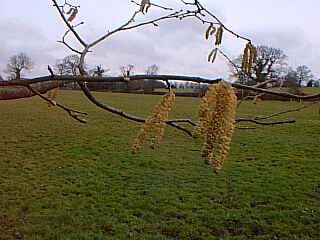 Chain harrowing, to get rid of all the old dead grass and to level out any ruts and to spread any large lumps of muck that the spreader did not break up, rolling to level out the ground and press in any stones etc. that would damage any mowing machines if left. Fences to be maintained, ready for the turnout of cattle.
Also fertilizer spreading can begin to get the grass growing so that the cows can get an early bite of grass as soon as the sun shines.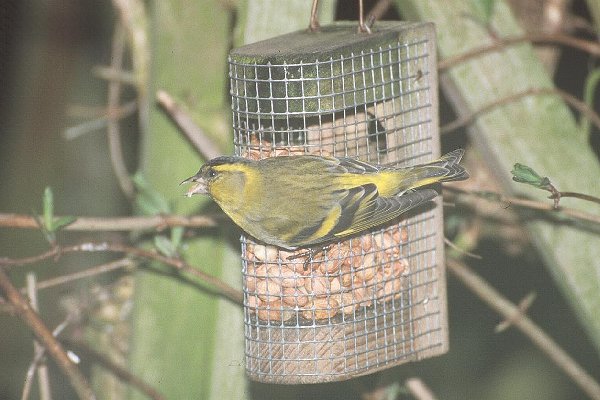 This year I think we have more varieties of birds about than I have ever seen before, why I don't know. We have had siskins on the feeder in the garden, this is the first time I have seen them here, we also have a lot of greenfinch which had become scarce and lots of chaffinch. I have also seen coal tits in the lane beside our house which are a bit scarce now.
Frogs also seem to be on the comeback. Only the other morning I saw three crossing the road ( one good thing about the F&M is that there were no cars about) and there is frogspawn in ponds where there hasn't been any before, as far as I know.
Charlie, March 2001